April – May 22
A letter from our Missional Partnership Minister
Dear Friends,
Since I started in ministry in Lancashire East in July 2021, I have been asking you how we are going to re-open after the pandemic, I have also been asking what are your priorities going forward. While I do feel we still need a vision for the Missional Partnership and how it should serve us all, I was surprised by how much is happening already across the partnership. In March we held an Elders Retreat where we shared the missional activities of each of the churches and I was pleasantly surprised by the pages worth of activities that were already happening.
There is so much also being planned, the relaunch of Lunch Clubs and messy Church groups for example as well as new Missional Partnership activities. Please do look out for our new mailing list and Facebook Group invites coming soon, so we can all keep up to date with activities to be involved in and things to pray for.
As a group of churches, I think we are covering so many areas of mission and ministry, if you are thinking of doing something new and not sure where to start, or you would like new ideas for a group your already running – the partnership is here to offer ideas and support, just ask your church rep to bring it to our next meeting, which are held every six weeks or so.
Now as we continue our journey for Easter, I hope and pray that God is guiding you on the journey and perhaps pointing you to new ideas to engage in your spiritual Journey. I am enjoying the Lent Course and I am looking forward to starting a new Zoom Partnership Bible Study after Easter. While we have lots of missional activities happening, we also have lots of discipleship taking place and if you would like to explore ways to engage with God deeper or are exploring a possible call to ministry, lay preaching, Eldership or other call, perhaps now would be a great time to speak to an Elder or Minister and see where God leads.
Have a great Easter and I pray you will be blessed in all that is happening,
God Bless,
Adam Woodhouse
News of our Church Family
Unfortunately, several of our members are not well and are continuing to find life difficult and we are therefore holding them all in our thoughts and prayers.
Good News!
We are going to restart the Messy Church sessions at both Shadsworth Infant and Shadsworth Junior schools.  The Infant school session will take place after Easter and the Junior school one will start at the end of June.  In addition, we are going to run a one session afternoon Holiday Club during the school Easter holidays.
The Ukraine Crisis
We are all aware of the tragic situation developing in Ukraine where many families are in severe danger from the attacks on their lives and country and many are leaving there for safer places to live. We are therefore collecting both money and goods to help those who are in need because of this terrible situation and give thanks to all those who have donated money and/or clothes and to those who will continue to donate both money and clothing etc to meet this urgent need.  To date we have sent to DEC over £200 and are collecting and deliver clothing and food to the Ukraine crisis collection points in Preston.  We hold all those caught up in this terrible situation in our thoughts and prayers.
Burnley and Nelson URC
It is with sadness and regrets that we report that the Burnley and Nelson United Reformed Church has recently closed after serving the area as an active Christian presence for over 200 years in so many ways.  The church members can be very proud of the good Christian presence and work they have maintained so faithfully which has been an important part in many people's lives and is now an active legacy that all those memories provide and so we say to them all ''well done good and faithful servants'' your work is done.
Lancashire East Missional Partnership (LEMP)
Who are we? We are eight URC churches, two Local Ecumenical Partnerships [LEPS] with the Methodists and a URC Primary School in Barrow near Clitheroe
IE Trinity Brownhill, Revidge Fold, Westbury Gardens, Woodlands, Kingsway. Clitheroe. Darwen Central, Tockholes, Lower Darwen & Great Harwood Local Ecumenical Partnerships with the Methodists, and Barrow URC Primary school. The Rev Adam Woodhouse is a LEMP Minister working with all LEMP churches. It is hoped that another LEMP Minister will be appointed shortly. Mal Breeze, who is a Church Related Community Work minister works with 3 of the Blackburn Churches as well as the Synod and Pastor Alan Barnes serves the Woodlands and Kingsway Churches.
A Steering Group meets regularly to 'steer' the work of the LEMP comprised of a member from each of the LEMP Churches, the CRCW and a Synod Mission Mentor. They exchange ideas and discuss the progress of mission in East Lancashire. As time passes and with a new Minister to be appointed, we will be more aware of how we can help and encourage each other. A good example was the recent Elders Retreat Day – see Elaine Smith's report below entitled 'A Treat of a Retreat'.
A Treat of a Retreat – East Lancashire Missional Partnership
Saturday 5th March was a lovely spring day and 50 Elders from the 10 churches in Lancashire East Missional Partnership (LEMP) made their way to Barrow URC Primary School, near Clitheroe in the beautiful Ribble Valley. The school is one of the very few URC schools in England and has recently had a total renovation and extension from its previous Victorian building. Its light airy hall was perfect for our Elders' Retreat Day.
There was a definite excited buzz as Rev Adam Woodhouse, our newest minister to join the LEMP team, welcomed us. It was a joy for us all to meet face-to-face after almost 2 years of merely seeing each other on the screens of our laptops or phones. All hail Zoom – but it's so much better to meet in person! Our new Missional Partnership Steering Group Convenor, Rev Mike Aspinall also joined us for the first time in the flesh.
Rev Dr Rob Hoch led us in worship and proceeded to engage us in stories from his homeland of the USA and of his time ministering in the UK. Rob's tales highlighted the fact that for many people in the modern world, us 'church-goers' are viewed as belonging to an 'alternative society'. Rob demonstrated that the work carried out by ourselves in our church buildings and in our wider communities proves that God is already with those with whom we meet and engage in our various ventures. Those people sometimes just need a bit of encouragement from us to realise that God is all around them – and us – all the time. Rob's message gave us a genuine feeling of hope.
The power of different coloured lollipop sticks seamlessly helped to sort us into groups where we each engaged with Elders from the other churches. Rev Daleen ten Cate continued the theme of hopefulness in encouraging us to discuss into which of 5 Marks of Mission we would place our church activities. From our extensive list of activities were we telling others, teaching others, tending to others, transforming others' lives or treasuring God's creation? Activities such as mums & tots groups, uniformed groups, foodbanks, charity shops, Fair Trade stalls, art & craft clubs, refugee & asylum seekers support groups, lunch clubs, dementia-friendly cafes, debt advice groups, mosque/church twinning and many more activities highlighted that, within our churches across the Missional Partnership, we cater for a wide spectrum of ages and serve people from a huge range of backgrounds and circumstances. Telling, teaching, tending, transforming and treasuring are woven into God's mission and we learnt to see where God is already at work and how best we can further this 'Missio Dei'.
The afternoon session was spent experiencing a calm meditation, helping us to learn how to unclutter our minds and take time to think clearly. We were then encouraged to enjoy taking a walk outside around the environs of the school and through the little village of Barrow, feasting our eyes on God's beautiful creations – signs of spring and the surrounding hills, the biggest and boldest being Pendle Hill. For the people who weren't able to go for a walk there were indoor interactive prayer stations available.
We ended our time together with closing worship, led by Pastor Alan Barnes, followed by Communion given by Adam. Our Elders' Retreat was aptly summed up as being one of joyfulness, hopefulness and positivity. It was so refreshing to come away with those feelings instead of constantly beating ourselves up about the things we haven't got around to doing at our churches or moaning about the lack of young people in our current ever-shrinking congregations. Collectively, we are all reaching out to so many people on a weekly basis across our Missional Partnerships and we need to feel proud. There's much hope for the future.
Elaine Smith, Revidge Fold URC, Blackburn.
Barrow United Reformed Church Primary School marks URC's 50th Anniversary
The children of Barrow Primary school had a great day on the 1st April celebrating and marking the 50th Anniversary of the URC. The children, their families, friends, some members of the URC, the Rev'd Adam Woodhouse, the Rev'd Daleen ten Cate plus others from the URC National Church along with the school's Headteacher and staff members gathered in the school, sang songs, heard about the URC's history and then planted 50 trees in the school grounds to mark the URC's 50th Anniversary.  It was a fine sunny day, and everyone enjoyed this wonderful and memorable occasion.  This was a great day for all and particularly for the children who will remember this throughout their lives and makes it clear that the school is an integral part of the United Reformed Church which we are all very proud of.  Not only does this mark the anniversary of our church but also makes a strong statement about how important it is to embed our eco thinking in all that we do which will help to protect and save God's precious world.
KAIROS HOUSING grand opening day
Kairos Housing is a Christian organisation who help and support people of all faiths or none.  Our Managing Committee is made up of Christians from a variety of churches (United Reformed, Methodist and Community Blackburn Church) and church traditions across Blackburn with Darwen.  We house Asylum Seekers and Refugees who have faced persecution in their home country for reasons of race, religion, nationality, political opinion, or
membership of a particular social group.  The Asylum Seekers we house are homeless and destitute, with no source of income and no entitlement to benefits.  We provide them with free, safe and secure housing, a small weekly support payment and other support of donations in kind towards essential living supplies.
We provide safe accommodation and holistic support to refused asylum seekers and refugees who find themselves homeless within Blackburn with Darwen.  We have four, 2-bedroom, fully furnished, shared flats in Blackburn town centre.  All the accommodation we provide, including the Kairos Hub, has been generously donated for us to use, free of charge.  We received donations of furniture and household goods. Volunteers donate their time to make everything happen behind the scenes.  Our running costs are met by generous donations from individuals and grant funders.
We believe in:
SANCTUARY – Refugees and Asylum Seekers need a safe and secure place to live with provision for their basic needs.
BELONGING – Refugees and Asylum Seekers need community, a place to belong.
JUSTICE – Refugees and Asylum Seekers deserve justice and equality. We support Asylum Seekers while they submit fresh legal cases.
Kairos Housing began in the summer of 2020 with one guest, a generous landlord and a handful of volunteers.   During 2021 Kairos Housing provided 765 nights of accommodation to 7 individuals from 5 nations in 3 flats with 1 part time support worker.  During 2022 have taken on and renovated one more two-bedroom flat and this year we want to provide over 1000 nights of accommodation and support to Asylum Seekers and Refugees in Blackburn with Darwen.  We are working to achieve charitable status and appoint trustees.  We are also hoping to employ a second individual to work on administration and grant funding applications.  In March 2022 we opened the Kairos Hub and we now want to establish that as a place where guests can connect with their support worker and each other.
Please visit our website if you would like to find our more, book a speaker or make a donation:
Westbury Gardens Art and Craft Group
Westbury Gardens Arts and Crafts group meet every Monday morning from 10.30 – 12.30. There is a good social atmosphere that welcomes everyone from all backgrounds whatever their race, religion, age, gender, disability, or artistic ability.
Learning and using all types of artistic expression in different mediums such as painting, sketching, Papier Mache, knitting, crochet and embroidery.  The group is led by Mr Gordon Mellody, a well know artist, who leads the group and runs tutorials in artistic expression.
The group holds public exhibitions and during the month of April is showing its work in Blackburn Central library. The exhibition has a connection with the Queen's Jubilee and St George's Day.
The group has worked flexibly throughout the pandemic. When the group was not able to meet in person, they met online using Zoom with Gordon giving online tutorials for those who were able to join in using Zoom. They have also held 'open air' socially distanced workshops in Gordon's Garden.
All are welcome, if you would like to find out more contact Margaret Estill (01254 852804) or visit the group on Monday morning 10.30am at Westbury Gardens Church.
You are invited to visit
Westbury Art and Craft Group
Open Exhibition of
Art and Craft
at Blackburn Central Library
Town Hall Street
BB2 1AG
Exhibition will be on display in the library for the whole of April  
*************************************************************************
February – March 22

A letter from our Missional Partnership Minister
Dear Friends,
Happy New Year, although by the time you read this it may be long gone depending on when the magazine is published. One of the many complex issues with being a Missional Partnership Minister, writing for a number of magazines! While the New Year Day may have long gone, we are still at the start of the new season that is 2022. I wonder what you may be thinking about church life as we continue through 2022. What has been a highlight of the past couple years and what have been the challenges?
What do you see as the role of your congregation in your local community? Is it focused on preaching and teaching the Word of God? Is it about offering Pastoral Care for the members? Or is it about serving the community that we live in? Perhaps you see it as a mixture of them all and perhaps even more things. If you had to name five priorities for 2022 in your Church life, as an individual and as a congregation what would these be?  I would be really interested to hear – perhaps discuss them at your Elders and Church Meetings, this can then be fed into the Missional Partnership and will help me serve you better.
As your minister, while I serve the whole partnership, I have been inducted to serve each church individually and I would love to hear how I can serve you best and how we serve each other in the mission of Christ in East Lancashire.
This year feels like it is starting with a blank sheet of paper and we are all starting to fill this space. Let's remember the words of Philippians 4:6 (NIV)
"Do not be anxious about anything, but in every situation, by prayer and petition, with thanksgiving, present your requests to God."
As we are discerning the way forward, a time of renewed beginnings, perhaps that passage could be something to hold onto and gain comfort from. Perhaps use it as the Scripture focus of the year? Could you print it out and put it on your fridge or in your workspace?
Whatever 2022 holds for you, I pray God's Blessings over you and I look forward to serving you into 2022 and beyond
Rev Adam Woodhouse
Thoughts from the Church Secretary
Dear Friends,
Only a few days ago I was talking to a member of another church asking how things were with her and her church and she said to me 'have you read what Tony Burnham has written in the Prayer handbook this is us to a TEE it really speaks to us' it is entitled –
'Bootstraps and Sandal straps' Tony wrote –
We worry about the shrinking Church, God, as if it is up to us to lift her by our own bootstraps?
Though overwhelmed by the struggle, you are with us, forgive us and speak your word of encouragement.
Teach us that the larger the crowd, the harder it is to undo our Lord's sandal straps,
Yet only a few followers of Jesus are needed to wash the feet of the poor.
As we see empty seats and grey heads, let your holy spirit comfort, and cheer us, we thank you for your word that, every so often, the field must lie fallow, that before there is growth the plant must be pruned.
So, God, we rejoice that, by the power of the Holy Spirit, there will be a day when our sons will come home from far away and our daughters from the ends of the world.
Then you will strengthen your people, taking away their anxieties and bless us with your peace.
I think Tony is saying to us trust in Jesus because he is the answer to our prayers, and we will be changed into confident followers if we do as he says.
Having read what Tony wrote it made me think of a book a few of us have recently been reading called 'Bouncing Forward' which is all about being resilient despite difficulties.
One example used in the book asks what happens if a Tomato is thrown into a hole in the soil?  Of course, it is squashed and does not bounce back, well not immediately anyway.  However, because it contains seeds, over time, life emerges as the seeds are nurtured by water and the nutrients in the soil enabling a new tomato plant to grow and bear fruit and we can do the same by putting our trust in Jesus and his loving care.
Some of us are feeling somewhat squashed now, aren't we, because of the Pandemic and not being sure what the future will bring. We must therefore put our trust in Jesus because we are the equivalent of those tomato seeds from which new growth will come if we respond positively to the amazing love of Jesus.
Blessings
Derek Estill
United Reformed Church will be 50 years old in October this year
As local churches marking our 50th Anniversary can help us not only to keep pursuing our ecumenical vision, but also to plan how we will continue to be an active, engaged and a faithful Christian presence in our communities and an opportunity to give thanks.
The Elders have begun to think about this and would be interested to hear any ideas you may have about how we might celebrate this important occasion in the life of our church.  This might be having a party, having a special service, having an 'away day' together – all sorts of ideas are welcome, please put your thinking caps on and let us have your ideas.  This will be a good opportunity to think back, to when we first
became a URC, of things that have happened in the life of our church over the last 50 years and good moment to think about our future and how we would like our church to develop in the coming years. The Elders will be taking part in an Away Day, in 'Stonyhurst' College, along with Elders from other churches in our Missional Partnership, thinking about our own way forward, so be sure to look out for the feedback from this important gathering.
Nationally there will be an Anniversary Service of Celebration and Thanksgiving on 1 October 2022, at the Methodist Central Hall Westminster, London, free tickets are now available if you would like to go.
Please let any of the Elders know if you are interested to attend.
December – January 21/22

A Christmas Message from our partnership minister
Dear Friends,
Can you believe it, we are again approaching the advent season and preparing to celebrate the birth of Christ once again? The last few months seem to have flown by for me. I have now led worship in each of the 11 churches in the partnership and have been warmly welcomed at each. Some highlights for me were the Scout Parade at Woodlands, the church full of scouts, parents, and members of the congregation. There was a lot of laughter and great singing. A couple of weeks later I joined Pastor Alan at Kingsway to celebrate the 140th anniversary of the Ragged School, again with a full church and excellent lunch. I will never forget Alan's unique welcome with the presentation of the keys!
I have received many flowers which I am doing my best to keep alive and several dinner invitations which have been greatly received and welcomed. It is both a privilege and a challenge to serve you all in the partnership, but it is no exaggeration to say I have felt welcomed in each and every fellowship.
As we approach the season of Advent, I wonder how you are feeling? For many I am sure after the last couple years you are looking forward to signing carols and being with friends and family, for others maybe this is a difficult time of the year, a time of grief and/or loneliness. Please be assured of my thoughts and prayers over this time. Please do feel free to join us for the activities taking place and do speak to one of the ministers or Elders if there is anything we can do to support you during this time.
I am looking forward to celebrating Christmas with you all and this year hoping to sing out together praises to God, hearing the scripture readings and sharing a mince pie or 3 together in person.
May God bless you as we remember together the true reason for Christmas. Have a very happy Christmas and God's blessing for the new year… whatever that may hold….
Adam Woodhouse
Minister of the East Lancashire Missional Partnership
A Christmas Message from our community minister
Dear Friends,
All things being equal this Christmas some of us will once again be able to share it with friends, family and loved ones which we weren't able to do last year.
It has been a difficult 18 months or so for everyone and while some of us will be able to enjoy Christmas we need to take time to remember that not everyone will. Especially those who have lost a loved one either due to the pandemic or during it or are now unable to visit them in a care home or hospital, those who are homeless and Asylum seekers and Refuges' who are living in a strange land.
I don't believe that it was a coincidence (or God-Incidence as one of the church members used to say when I was in Peterborough) that Jesus was born in a 'stable' instead of a 'Grand Palace'. The only place for the sleeping baby to rest was most likely in the animals' trough, known as the manger (Luke Ch2 Vs 7)
Jesus' Ministry was getting alongside the poor, those who were in need and the vulnerable, walking with them every step of the way and challenging unjust structures. He wouldn't have been able to do this if He had been born in a Grand Palace because He wouldn't have had the same trust and respect from those he was sent to help.
Today we are tasked with continuing His Ministry here on earth and particularly at Christmas time. With so many people in need, being homeless and sleeping rough in doorways or wherever they can find if there is no room in the 'Doorways' with only cardboard, newspapers or sleeping bags (if they are lucky) to be their swaddling clothes.
Jesus also welcomed the stranger and the outcast and there will be hundreds of Refugees and Asylum Seekers, seeking a place to call home and as churches we need to be welcoming and help them find 'their place to be'.
What can I give Him,
   Poor as I am?
If I were a shepherd
   I would bring a lamb,
If I were a Wise Man
   I would do my part,—
Yet what I can I give Him,
   Give my heart.
Given that Jesus died on a cross for us the least we can do is do our part and give a piece of our hearts this Christmas and show kindness to those for whom Christmas is going to be a difficult time. I know our Churches will be collecting things for the Foodbank and Night Safe (something we do anyway all year round) but is that enough? or can we go the extra mile and give what we can to those in need, those living on their own or have nowhere to go, not even a 'Manger' to lay their head?
Could we be doing more? Should we be doing more? The answer to both questions I would suggest is YES. What can we as Churches do? what can we as individuals do this Christmas to make Christmas special for someone in need?
Whatever you do this Christmas Lorraine and I hope you have a blessed one and we thank you for your support during the past twelve months and all we ask is that as you ponder the meaning of Christmas,
"Go back to the first one".
May the peace of the Christ Child be with you.
Mal and Lorraine
Remembrance Labyrinth
On the 6th November we as a church provided an opportunity for anyone in our church or in the local community to come and remember the difficulties we have been through with Covid.  This occasion provided some time and space for people to think quietly about what has happened to them personally or to their friends and family.  We set up 8 different 'stations' in the sanctuary, separated from each other and that provided an opportunity to think and focus your thoughts and perhaps say a prayer or to just spend time quietly thinking about what has happened over the last 18 months/ 2 years quietly meditating.  During this time, we also shared communion together and then, having moved away from the Labyrinth, we served tea/coffee and biscuits so that we could spend some time talking to each other. Those that came expressed appreciation for this opportunity to quietly remember set apart from daily routines.
Remembering
(Below is an article Mal recently wrote for the URC National Website which also made it to the front page of their news sheet and he would like to share it with you)
Church Related Worker Mal Breeze reflects on the significance of Remembrance and what it means to him, to members of his Blackburn community, his faith and to everyone who has been touched by loss. Mal also reflects on how the face of the Memorial Day has changed in Britain and around the world, especially during the pandemic.
3
Remembrance today
11 November is the day which was originally set aside to remember those who gave their lives during the first and second World Wars. It was hoped that the second was the war to end all wars. Sadly, this has not been the case and so remembrance has taken on a whole new meaning. There are also those who will be remembering loved ones who have not died through war, but because of tragedy, murder, execution, terrorist attacks such as the Manchester Bombing, an accident, Covid-19 or natural causes.
In 2019, an Art and Craft group – who meet at Westbury Gardens United Reformed Church (URC) in Blackburn, one of three churches in the North East Blackburn group – worked on a poignant project with resident community artist Gordon Mellody. Together, they created a sculpture entitled "Two sides of the same coin" made entirely out of wood from pallets and papier mache. One side depicted a second world war soldier, and the other side a veteran.
This was displayed in Blackburn Library for a month before going on tour in partnership with the local veteran's society. It is now in their museum here in Blackburn. The sculpture reflects that we remember those who lost their lives during war and conflict and the veterans who served in more recent campaigns, but at the same time have been forgotten by government after government and society in general. These soldiers can find themselves homeless and suffering from mental health issues.
Remember the weekly clap for NHS workers working on the front line during the pandemic, and we all drew or purchased rainbows and put them in our windows to say thank you to them? As things ease, I wonder will we still remember them or will most folk forget? With this in mind, the 2020 art and craft group made two sculptures, one depicting Florence Nightingale and one a second world war medic.
This was again displayed in the library when lockdown restrictions eased, alongside other pieces of art created by members of the group, under the theme "The health of a nation – then and now".
Looking back to the past
Memory is a wonderful gift. Visit any elderly person and as I'm sure you know, you will soon find that they don't want you to talk to them, but rather they simply want someone to talk to, who will listen to them as they travel back over the years down memory lane and recall the events of by-gone days. Memories for such people are a vital part of their life especially if they are cut off from the outside world.
There are two different ways of using the word "remembrance". It can be recalling something from our own memory of which we have had practical experience, or it can be bringing into our thoughts something from the past, which is not part of our own personal experience, but of which we have some knowledge.
Remembrance and Christian Faith
For the Christian, remembrance has a very much deeper and more meaningful significance, because at the very heart of our Christian faith is an act of remembrance. When we gather at the table of the Lord in our Communion service, it is a simple yet profound act of remembrance. Bread is broken and wine is poured
The bread symbolises the broken body of Christ and the wine, the shed blood of Him, who gave his life for the salvation of us all. As we look at the sacrifice "made once for all" on Calvary we learn that death was made necessary by the sin and stupidity of humankind.
Looking back over the ages we find it difficult, if not impossible, to believe that men and women – decent, simple, ordinary folk like you and me – would wilfully put to death one so perfect as Jesus Christ. The one who through the centuries has been proclaimed the most perfect man who ever lived, not only by Christians but also by many who have not embraced the Christian faith but yet have recognised how good and wonderful a person Jesus of Nazareth was. Yet this is the man who was crucified.
The people we remember today, tomorrow, or next year, are victims of the selfishness of men and women, not just of one generation, nor of one country, but all the self-centredness of all the ages and of 4
every country. The time comes when such self-centredness, like some immoral volcano, belches forth – leaving death and destruction in its wake. So, Christ was crucified, and lives have been sacrificed in the ravages of war and other events.
When Christ died upon the cross, the hopes of many were shattered. There were two disciples who returned to their home in Emmaus completely heartbroken. They had believed that Jesus was to have delivered their nation. Yet look what happened, he was put to death. This meant an end to their hopes, but Jesus showed them that it was their ignorance, not the face of the cross, which had caused their disappointment and disillusionment "Father forgive them for they know not what they do" had been his prayer on the cross. Now he shows the two disciples on the Emmaus Road the reason for Calvary. With men being so sinful how else was such a life as his to end, except on a cross?
To believe that peace for all time is a possibility is not to believe and place one's trust in the ability and goodness and cleverness of man. We may have no faith whatever in humanity, but we need to have infinite faith in the power of God. The peace of this world is God's will for his world.
Remembrance is also a time to remember that there is another world besides this world. This is what Christians are reminded of as we look back to Calvary and remember Jesus on the Cross. There we see that death is not the last word, it is not the end because beyond death is a glorious Resurrection and Heaven
So as Christians, we can live in hope when otherwise we would despair, because the final victory is with God. Believing in that victory we continue to pray, to love and to serve, so that God's Kingdom may come on earth even as it is in heaven.
Published: 11 November 2021
Tearfund Tap and Toilet Twinning Appeal
You will remember that our Harvest Appeal this year supported the Tearfund Tap and Toilet Twinning project.  The money we collected has enabled us to twin with two taps and one toilet.
Our Tap Twinning donation will help to give sustainable, reliable, and affordable access to safe, clean water in some of the world's poorest communities. We have also twinned a Toilet to help fund a project in a poor community that will enable families to build a basic toilet, have access to clean water and learn about hygiene – a vital combination that saves lives.
As you may have seen displayed in the Foyer we have now received our certificates which will be displayed permanently in appropriate places in our church.
Book Reading Group led by the Revd Adam Woodhouse
A book reading group is studying a book called 'Bouncing Forwards'.  You will of course have heard the term 'Bouncing Back' and yet life's battles can leave us scarred and changed, why would you want to go back when what you've been through has taught you so much. This book talks about Bouncing Forwards instead. It is all about exploring resilience, acceptance, and emotional agility and how we can find meaning in some of life's toughest moments and the hope to journey on.  This is particularly appropriate when we think about the difficulties and traumas that we are experiencing caused by Covid.  If you would like to join the group, please contact Adam or the Church secretary, their contact details are on the front page.
October – November 21
Maurice Bradley Revidge Fold URC
Dear All
By my reckoning, our three churches (Revidge Fold, Trinity, and Westbury Gardens) have been open for worship for 8 weeks after 17 months of lockdown!  It has been such a strange time, proving a real challenge to our churches.  It has felt a bit like wakening after hibernation, but it hasn't been hibernation, has it?   I know that plenty has been going on during lockdown because we found new ways to connect with one another.  There have been contacts in many ways, telephone calls, letters, and cards to each other have increased, and chats at front doors when we weren't allowed to go in each other's houses.  When we could meet in gardens, I'm sure many of us have memories of chilly get-togethers.  We have certainly had one or two of those sitting in our garage with car rugs, hot water bottles and mugs of tea!
One of the principal ways we have connected has been via zoom for those who have the technology.  We have worshipped via zoom, and had prayer breakfasts, morning prayers (which continue on Tuesdays for anyone who would like to join us), elders' meetings and quizzes, to name but a few.  For this we are hugely indebted to Mal who has gone above and beyond as he embarked on a very steep learning curve learning how to operate zoom and has become extremely skilled at this now!
A week before we opened our doors for worship on 25 July, we were delighted to welcome Adam Woodhouse who was ordained and inducted into the Lancashire East Missional Partnership.  He has now settled into his new manse, and we look forward very much to working with him.
As we look to the future and try to discern God's voice guiding us in these post-lockdown times, it can feel daunting.  However, we know that God has plans for us and while the road ahead can look uncertain and we cannot see round the next bend, God is already there beckoning us to follow.  We need to pray that we listen carefully to Him and encourage each other as we walk daily with our Lord.  Listen to these words from Proverbs 3:5
'Trust in the Lord with all your heart and lean not on your own understanding.  In all your ways acknowledge Him, and He will make your path straight'.
With many blessings as we seek the way forward together.
Maurice Bradley
Revidge Fold URC
A message from Adam our Missional Partnership Minister
Dear Friends
Once again, I would like to thank you all for your continued warm welcome, especially as I have now moved into the manse. It has been great to receive all your cards and flowers, chocolates and offers of help. I have now had the pleasure of having my first Lancashire Pie and pea lunch with thanks to Revidge Fold URC. Although I am still laughing at being invited to an event called "Tuesday at 2", starting at 1pm!
I am still surrounded by boxes, and I think I will be for some time yet – But at least I have a place to call home and a study to work in.
As we come to September and October, it is a time many of us will be thinking about new starts. New schools for children or grandchildren, fresh starts at university or jobs and at church fresh starts as we continue to emerge from the pandemic slowly and cautiously.
Many of us will be thinking of how we are to move forward in this new world, how do we care for each other but also step into new ways of being church. I wonder how many of you have reconsidered like me what it means to come together to worship God? Over the last 18 months or so we have all tried new ways of worshiping God, this may have been on Zoom or following on TV or the radio. For some it has been following a written liturgy.
It is said that many came to church for the first time or returned to church over the pandemic via online services. I know many of the churches in East Lancashire are considering the way forward and there are some exciting things starting to develop.
I would like to leave you with a reminder of 1 Corinthians 12:12-13a (NRSV)
"For just as the body is one and has many members, and all the members of the body, though many, are one body, so it is with Christ. For in the one Spirit we were all baptized into one body"
How do we carry out the mission we are called to in our communities ensuring a warm welcome into the One Body of Christ, The Church?
I look forward to journeying with you all as we go forward, building Christ's kingdom here in East Lancashire!
God Bless,
Adam Woodhouse
Our Way Forward 
Being open again is a new beginning for us and therefore an opportunity to think hard about what is most important for us to be and to do as we go forward. The Elders have been giving this some thought and would like to offer the following for us to work through together
our discipleship to be modelled on living our lives like Jesus did.
our spiritual and prayer life to be active in familiar and new ways of worshipping and at other times.
partnerships working within our local community to provide hospitality and pastoral care as well as embracing diversity and evangelism.
build on what we are already doing through the Art and Craft and the First Monday's groups
continue doing Messy Church Sessions and School Assemblies etc.in local schools
become a 'Place of Welcome' open to all in the neighbourhood as a friendly
meeting place where you can enjoy a cup of tea/coffee and a chat etc.
by doing all the above become a Church Centre that is used in many ways by the whole community
refresh our building externally and internally in support of all the above – some details on page 4
It will also be most important for us to be supported and motivated in all the above by Bible Study and by recognising the need to 'Listen' to what is needed in our communities and then by putting our 'Faith into Action' in response as is said in James 1:19 to 24 and James 2:14 to 17
Adam is planning to lead a Book Reading group on a book entitled 'Bouncing Forwards – notes on resilience, courage, and change' all which speak to us as we emerge from the Pandemic. If you would like to join that group, please let Adam know as soon as you can.
Mal will be running an Advent Bible study so watch out for more details about that which will be coming out soon.
Adam and Daleen will be running a Lent Bible Study so watch out for that too so you can join in.
Archbishop Oscar Romero wrote many daily meditations. Two of these are set out below as they might help us as we find our Way Forward –
Don't measure the church by the numbers of people. What matters are all of us men and women, count the sincerity of the heart with which we follow the truth and grace of our divine saviour
The proof of prayer is not to say a great many words, the proof of my plea is how I act towards the poor because God is there
Windows in the Sanctuary looking out onto the quadrangle
The Windows that look out from the sanctuary into the courtyard are being made into clear windows that allow us to see into the courtyard and will make the sanctuary lighter. This it is felt will be a big improvement
Improvements to the external appearance of our church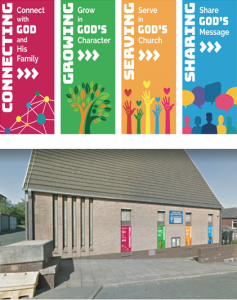 The banners above will be as shown above and emphasise that in all we do we are connecting, growing, serving, and sharing God's family, character and message and were agreed by a Church Meeting held after the service on the 19th September.  These will be placed over the bricked up windows on the side of the church looking out over Westbury Gardens as shown in the picture above.  There is more work in hand on signage and this will be followed through during the following weeks.
***********************************************************************************************
June – July 21
Rev Daleen ten Cate
Dear Friends,
Whether it's a traffic jam, a queue at the checkout, a delayed payment; or the new variant of Covid, it is through our trials that we learn patience. Joyce Meyers says: "Patience is a fruit of the spirit that grows only under trial.  It is useless to pray for patience.  Well, actually I encourage you to pray for patience, but I'll tell you what you'll get, TRIALS!"  Don't you realise you can't get patience any other way?  You are not required to have it any other time.  You don't need patience when you're running on time.  Patience isn't necessary when there's enough money left at the end of the month.  You don't have to have patience when everything is going well.  You may possess other qualities like love, compassion, generosity, thoughtfulness, faith, humility, humour, gentleness that you can 'take out and use' at any time, but patience… patience is different.  Patience is only gained through trails and struggles.  It's called on only during difficult times.  Now, that doesn't mean that it always makes an appearance during a struggle.  After all, it's still up to us whether we choose to let ourselves be patient through difficult circumstances.  You can choose to wallow in your struggles and be miserable or, you can rejoice, knowing that the Lord is giving you the chance to become more patient and to learn new skills and values in this time of trials.  It's a chance that comes by no other way than through trials and difficult times.
During this time of lockdown where we patiently waited, we can choose to rejoice in so many blessings in disguise. The blessing to learn to communicate through zoom, the blessings that we learnt to know and engaged with our community, the blessing of appreciating our health, our NHS, keyworkers, teachers, cleaners and bin men, the blessings of hybrid worship where more people on the margins of churches were included. The blessing that we as church, became more like a "glass house". Glass houses where people could peep in through social media or see the kingdom work that we continued in our communities, despite not being in our buildings. Now that we slowly returning to our buildings, I pray that we won't leave the lessons that we have learnt through this time of patience behind, but that we will be "glasshouse" churches in the future.
This is a Kairos moment in our history, an appointed time in the purpose of God.
Let's seize the moment, for the greater glory of the Kingdom.
Rev Daleen ten Cate
Lancashire Area Missional Discipleship Mentor
Mal and Lorraine Breeze
01254 674862
Dear Friends,
We hope you are all keeping well and looking forward to the summer and hopefully nice weather and possibly the opportunity to go on holiday, Lorraine and I will be on holiday from 10th – 25th June.
My work continues to be carried out using Zoom for various activities; worship, meetings, training sessions, social gatherings, art and craft and quiz nights to name a few, but I can't wait to be able to get back out into the community and physically resuming work with groups, schools and churches.
I am grateful for the support, understanding and care that has been shown to Lorraine and I during the pandemic which has made the adaption to my work so much easier, it has certainly been a great learning curve for us all as we've had to learn new skills.
Now that things are easing up and we hope to be able to worship in our church buildings again I'm conscious that some people may not be able to do so and with that in mind I've undertaken to do a Zoom communion service on the FIRST Sunday of each month starting on Sunday 6th June particularly for our East Lancashire Missional Partnership but all are welcome. I'm also hoping to arrange for Zoom services to take place each Sunday for as long as they are needed so watch this space!!!
The weekly Morning Prayers will continue every Tuesday and the Prayer Breakfasts usually on the 3rd Saturday of each month and again all are welcome to join us as we reflect and offer our prayers and concerns to God and discern His will for us in these difficult times. The quiz nights will also continue to take place but monthly rather than fortnightly, the dates of these Zoom activities are as follows;
Communion Services at 10.30am:
Sunday 6th June, Sunday 4th July, Sunday 1st August, Sunday 5th September, 3rd October, 7th November and Sunday 5th December.
Morning Prayers – every Tuesday at 9.30am – 10.00am:
Prayer Breakfasts at 10.30am:
Saturday June 26th, Saturday 17th July, Saturday 1st August, Saturday 18th September, Saturday 16th October, Saturday November 20th and Saturday 18th December.
Quiz nights:
Friday 4th June, Friday 2nd July, Friday 6th August, Friday 3rd September, Friday 8th October, Friday 5th November and Friday 3rd December
It would be good if you could join us for some or all of these activities. Don't worry if you are on your own you can still take part in the Quiz Nights as I'll pair you up with someone using breakout rooms.
Finally, we hope that you all have a blessed summer and we'll look forward to seeing you all in person hopefully in the not too distant future.
Keep well and keep safe,
Shalom, our friends, Shalom.
Mal and Lorraine
April – May 21

Dear Friends,
Who would have thought that following the first Zoom service I did on Easter Sunday last year that we would still be doing Zoom services 12 months later. It has certainly been a very difficult year in the life of our churches with not being able to worship and share fellowship together due to the Pandemic. It has also been a steep learning curve for many of us, learning how to use Zoom and other forms of social media in order to take part in the services and other activities but sadly this has not proved to be inclusive for everyone which is a great shame.
The Easter story is about sacrifice during Lent, Joy on Palm Sunday, Confusion, Sadness and Suffering on Maundy Thursday and Good Friday and then returning to Joy again on Easter Sunday as we celebrate the Resurrection of Jesus Christ our Lord and Saviour which gives us great Hope in the knowledge that Jesus is always by our side and He keeps the promises He made, unlike us at times in our lives.
During lockdown people have experienced some of the same feelings especially if they have had Coronavirus, lost a loved one or not being able to see family and friends. I have been impressed by the stories I've heard from many of our members as to how they have coped with isolation and the things they have been doing to fill their time and/or making things to support the NHS and local community groups.
People have been busy making masks for care staff, knitting squares for blankets, making bags for nurses and doctors to put their uniforms in after long hard shifts ready for washing or making Jigsaws in readiness for the postponed Jigsaw festival at Revidge Fold and delivering food parcels, Christmas boxes, newsletters and orders of service to members which have been well received and made a big difference in their time of Isolation, fear and uncertainty.
Yes there have been very many negatives during the Pandemic but there have also been lots of positives and I believe that like the Easter story there will be Joy, Hope and Resurrection when we are able to once again gather together and that our churches and ourselves will be stronger than ever. Our buildings may have been closed but they have most definitely been alive in many ways, some we have not seen and others which have been more obvious.
Obviously all of us can't wait for the time when we can once again gather together for worship and fellowship and that day will come but it will be and feel very different for quite a while to come. In the meantime Lorraine and I thank you for all your support during the past 12 months and wish you all a very Blessed Easter.
May the road rise to meet you,
May the wind be always at back
May the sun shine warm upon your face,
The rains fall soft upon you fields and
Until we meet again in person,
May God hold you in the Palm of His hand,
Until we meet again in person
May God hold you in the Palm of His hand.
Happy Easter, Mal and Lorraine.
News of our Church Family (April – May)

Who could believe that we would still be in lockdown after 12 months?  However we continue to have services, prayer meetings, bible study and quizzes on Zoom but realise that not everyone can join in these events.  Therefore, we are continuing to send out paper copies of everything we can to those we know who are not able to use Zoom and hope that this is helping. The 'Thought for the Week' letters from Mal continue to be very much appreciated and enjoyed by many of us, so thankyou again Mal.
All the Elders are keeping in touch with as many of our church family as they can and are more than happy to help or just to chat.  If you would like to speak to any of the Elders, please phone Derek (his phone number is on the front of this newsletter) who will give you their telephone number.
Because the 'Roll Out' of the Corona Virus vaccine is going very well by the time you receive this newsletter many of us will have had our 2nd jab.  Our thanks go out to those who have created the vaccines, approved them, and are now delivering them so efficiently and pray that they will soon be available to everyone in the world wherever they are.
Some of our church family have not been feeling very well over the last few weeks, some are feeling anxious, worried, and isolated and we hold all of them in our thoughts and prayers.
As we emerge from Winter into Spring and spring flowers begin to come out our hope is that it will be easier to look forward with confidence to better times before long.
February – March
Happy New Year!
We are now in the season of Epiphany which runs from the 6th January until Ash Wednesday.  Traditionally on the 6th January we remember the visit of the 3 Wisemen or Kings bringing their gifts to baby Jesus to pay homage to him as a new King which infuriated Herod. The Three Wise Men were not Jewish as we are told they had journeyed from East of Jerusalem, probably from Persia, now called Iran, and may have been Zoroastrian Priests as well as Astronomers. This means they would have been the first Gentiles to greet Jesus which is a real Epiphany (sudden realisation moment) for me as it underlines the worldwide significance of Jesus's birth. In whatever way we feel about that moment to me it is one that gives us a clear message that Jesus and all he said and did is for everyone not just for some in our world. It is therefore a timely reminder that God's message of love and peace is available for all of mankind wherever we are and in all we do and say even though the whole world is in the grip of the Covid19 and the threat to our existence of climate change.
It is therefore very important that we don't forget this as we begin a New Year in lockdown in fear of the rapidly spreading Covid-19 infection and the distress it has already brought into the lives of many who have lost loved ones, sometimes even without the chance to say goodbye to them in their final moments.
Whilst acknowledging this dreadful fact we are also aware of, and perhaps personally know, people who have made and continue to make sacrificial efforts to help those in need, putting themselves at risk by selflessly responding to others needs living out the love of God. It is therefore at times like this that we begin to realise how much we need the love and support of our Lord Jesus Christ alongside and around us in all we do individually and together.  I feel therefore that my mission must be to do my best to continue to live my life trying to be a faithful follower of Jesus, doing my best to Walk the Way and Live the Life of Jesus Today Tomorrow and the next day and doing all I can to live out that love reaching out to those in need to bring help and comfort.
New beginnings often challenge us to make new resolutions. This Epiphany season is no different and it is therefore a good time to stop what we are doing and take stock. Perhaps we need to stop doing some things and begin to do others for the benefit of others. This it seems to me is what repentance is all about.  So perhaps what I am saying is that I must repent by stopping doing things that I shouldn't be doing and begin doing things that the love of Jesus asks of me by making that symbolic 180 degree about turn to begin walking the 'Way' more closely in step with the footsteps of our Lord, doing my best to live the life that Jesus wants me to live today, tomorrow and the next day and remembering that with God all things are possible.
Whilst writing this Introduction to our February and March Newsletter I have remembered that when Nigel Uden and I began our time as General Assembly Moderators we decided it would be a good idea to have a theme to help guide what we would be doing. After some thought we settled on 'Listening' (James 1.19) and 'Faith into Action' (James 2.17). I will therefore be doing my best to embrace this theme going forward as I try to 'Walk the Way' and live the life of Jesus today tomorrow and the next day. Perhaps you might like to do something similar too?
Every Blessing 
Derek
Westbury Gardens
News of our Church Family
Whilst Zoom continues to be a very successful form of communication between many of us we are very conscious that some are not able to join in because they are not connected to the internet. However, we are sending hard copies of everything we can to those we know are not able to use Zoom and follow up using the telephone. All the Elders are keeping in touch with as many of our church family as they can and are more than happy to help or just to chat. If you would like to get in touch with any of the Elders, please ask Derek to give you their telephone number. Derek's phone number is on the front of this newsletter.
The 'Roll Out' of the Corona Virus Vaccine is now well under way and many of us will have had our first dose which is very reassuring. Despite this we must all continue to wash our hands, keep the 2-metre social distance between ourselves and other people and observe the current restrictions and continue to take care being sensible in all we do. Perhaps once more have been vaccinated and the infection rate has come right down, we will be able to begin to get back to something like normal, let's hope so!
We give thanks for all those who have created the vaccines, approved them, and are now delivering them so efficiently. We are conscious that in other parts of the world some are still waiting for their chance to receive the vaccine and we hold them all in our prayers as we know that God is with them wherever they are.
New Minister coming to work in the Lancashire East Missional Partnership
As you know Adam Woodhouse will be joining our Missional Partnership to work with all 12 of the Lancashire East Missional Partnership churches once he has finished his training as a minister of Word and Sacrament at Westminster College in Cambridge this summer.
Because of Covid19 restrictions Adam has not yet had an opportunity to visit the Lancashire East area or our churches, nor has he been able to meet any of us in person which of course is so very different to what would normally happen when a new minister is joining a new church or group of churches. However, we have had an opportunity to meet him on Zoom on two occasions when we were able to ask him questions and begin to know each other a little.
The NW Synod will soon be looking for a house for him in East Lancashire and we are of course delighted that he is coming to be with us and are looking forward to being able to meet and welcome him properly as our Partnership Minister as soon as possible, Covid19 permitting.
Westbury Art and Craft Group
Whilst it is not possible at present for the Art and Craft group to physically meet each week, because of Covid19, the group is meeting online using Zoom. Gordon, the Artist leading the group, gives Art and Craft tutorials each week, on screen, demonstrating techniques and ideas and the group members doing their own paintings following his instructions. For example, in the last session Gordon showed the class how to draw and paint a seaside scene with a rowing boat on the sea.  This works very well as the members learn new techniques and at the same time enjoy the company of each other.  If you would like to try this out just let Margaret know on 01254 852804 and she will arrange for you to join in.
Margaret says 'You don't have to be an artist to join. I am happy to watch, listen and chat whilst doing my knitting'.
Way Forward at Westbury Gardens
When writing this newsletter restrictions because of Covid19 are still in place so it is not yet a time when we can consider reopening our church. However, work on getting people vaccinated is well under way and we are beginning to see the infection numbers coming down, there is hope therefore that perhaps by Easter, or Pentecost, we will be in a better place than we are now. Our thoughts therefore naturally turn to returning to church to worship and to thinking about what our 'Way Forward' as a church will be.
The Elders have therefore continued to do some initial thinking about what might come next such as – how we might – refresh our building both externally and internally – build on what we already do, perhaps start a weekly Lunch Club and becoming a 'Place of Welcome' that is open to all in the neighbourhood as a friendly meeting place to have a cup of tea/coffee and a chat etc.
We will of course want to continue to run Messy Church Sessions in local schools, lead school Assemblies and find new ways of connecting with schools, perhaps using Zoom. We will also want to further develop the Art and Craft group and to continue the First Monday's sessions as soon as we can. Whilst this will not be possible all at once we do want to be well prepared so any thoughts you may have about this will be more than welcome.
Our focus has been to build up
Spirituality and Prayer,
Community Partnerships,
Hospitality and Diversity
Whilst we are sure that these will continue to guide our witness in whatever we decide is to be our Way Forward we also feel inspired and motivated by the following Biblical Texts and meditations
James 1:19 to 24 and James 2:14 to 17
Two of Archbishop Oscar Romero's daily meditations summarised below:
Don't measure worth by counting how many are in the crowd count the sincerity of the heart with which they follow the truth and grace of our divine saviour
The proof of prayer is not to say a great many words, the proof of my plea is how do I act towards the poor because God is there
We feel the above are most important foundations on which to build our future Way Forward as a small and faithful congregation once we are all back together again. Because we are not at present able to meet, we can't have our usual Church Meetings to discuss things and therefore we would like to know what you as a member of our whole church family think about the above.
If you would like to talk about it or have ideas etc please let the Elders know. It is most important that we all agree what is important for us to be working towards as a church in East Blackburn. We have some time between now and Spring to think hard about these things so we are ready to move on as soon as the lock down is lifted, and life begins to get back to what will no doubt be a new normal
South East Blackburn Community Food Club (SEB)
As you may be aware a group of people on the Romney Walk Estate, originally known as Romney Voice Residents Association, from the estate above our church, have amongst other things set up a Food Club known as South East Blackburn Community Food Club providing food, and other essential items, at affordable prices for families in and around the local area.  They started their club before the pandemic and have now become even more important because so many people are adversely affected by the pandemic and they are doing a great job meeting local needs.  They operate from our church using the large hall as a place to receive supplies and then make up the food parcels that   they deliver and are now able to support an increasing number of local families. We as Westbury Gardens Church have supported them from the start and are very pleased to be able to continue our support in any way we can.  You might have seen their delivery van around the area and noticed that our church name and logo is on the side of the van as a supporter of the service they are providing.  Recently they have come to the notice of the Guardian newspaper who are reporting on how communities are helping each other during the pandemic. The Guardian will be interviewing SEB at our church and will be telling others about the work the group is doing etc.  The group have expressed their grateful thanks for our church's support over the last 3 years and we have made it clear to them that we are more than pleased to be able to support them in any way we can in the good work that they are doing.
FAIRTRADE Fortnight 2021 – 22ND February to 7TH March
Fairtrade fortnight will feel very different this year as normal collections and fund-raising events won't be possible.  2020 was a very hard year for all charities so if possible, please support Fairtrade when you are doing your shopping – every little helps.
CRISIS UK
Our Christmas charity this year was for CRISIS UK a charity for the homeless. Together with donations and with some from church funds we have been able to send £100 to CRISIS. Thank you.
Westbury as an Eco Church
As we continue our journey as an Eco Church we have gained an A Rocha Bronze Award last year and we will have the opportunity of perhaps gaining a Silver Award by adopting ways of being church that are kinder to the environment in our desire to look after God's creation so we pass it on to others in good order.
We urgently need to slow down the warming of our planet because this is already causing disastrous effects as the world's weather patterns, that have been stable for thousands of years, change in response to Planet Earth getting warmer.  It is therefore very important that we each do our bit to help slow and reverse this. This means us recognising that what we are all being called by God to do is to Repent i.e say we are sorry, stop doing those things that harm Gods world, which of course includes us as human beings and all forms of life, and begin doing things that protect and nurture it
You will see below a letter that has come from A Rocha about celebrating 5 years of the Eco Church movement which we are now part of.
Dear Friends,
We are delighted to mark the 5th anniversary of Eco Church today, the 26 January and would like to invite you to a special service on the 26 March to celebrate the last 5 years with you, to give thanks and to look forward in prayer.
Whether you have been part of the Eco Church community for all of this time, or whether you registered last week, thank you for being part of a growing movement of churches taking action to care for creation across every aspect of church life.
Five years ago, when Eco Church was launched, we set a target to reach 10% of churches (or about 4,500) across England and Wales in 10 years. Based on research, 10% is a recognised 'tipping point' after which churches practically caring for creation would seem increasingly normal and gain its own momentum – without A Rocha UK having to drive it.
We're well over half way there: a total of 3,100 churches have registered for Eco Church. And we're delighted to announce that more than 1,000 awards have been achieved! We announced Hereford Cathedral as the recipient of the 1,000th (a Silver) award just recently.
Eco Church has become a national community, learning together and stretching across all sizes and styles of church. It has also gained the strong support of many denominations as a key tool towards achieving their own increasingly ambitious carbon-reduction and other environmental goals. So it is also timely news to announce that every diocese in Wales has now registered for Eco Diocese, three quarters of the English dioceses have also registered and Eco Synod, Eco District and Circuit are also making great progress.
Thank you so much for being part of our Eco Church community this year. Despite being in lockdown there is much that we can do, not least to get out and enjoy creation and – whilst we can't yet meet in person – we look forward to seeing as many of you as possible on the 26 March. Further details and registration for our fifth anniversary online celebration will be up on the A Rocha UK and Eco Church websites soon.
Every blessing, Helen, Sara and all the team at ARUK
Holocaust Memorial Day 27th January each year
THIS YEAR'S THEME
BE THE LIGHT IN THE DARKNESS
In Blackburn with Darwen this important memorial is usually held in the Town Hall Council Chamber arranged by the Town Council and the Interfaith Forum but this year because of Covid19 it was held on Zoom and hosted by the Cathedral. As usual local schools were invited to help mark this important moment in the life of our community and this year were asked to write poems or produce artwork based on this year's theme.  Five Blackburn High schools submitted 16 pieces of work and another High School in Darwen made a video of an interview with two Jewish Holocaust survivors who recalled their experience of being sent by their families, when they were very young, from Germany to England on the Kindertransport, an organised rescue effort in 1938/39, that took 10.000 children out of harm's way just before the 2nd World War broke out. Neither of them ever saw their parents again finding out later that they had been killed in concentration camps at Auschwitz and Riga. It was heart rending and traumatic to hear at first hand and reminded everyone how terrible the Holocaust was and how important it is that we never forget about it.
A poem and a model inspired by the Theme were shown on Zoom on the day. The Poem was written by Zakaria, a year 8 student of Tauheedul Islam Boys High School (printed) below, and the model made by James a year 8 student at St Wilfrid's C of E High School.
The schools taking part in this year's remembrance were – Blackburn Central High School, Pleckgate High School, St Wilfrids C of E High School, Tauheedul Islam Girls High School, Tauheedul Islam Boys High School and Darwen Aldridge Enterprise Studio.
Be the Light in the Darkness
Everyone can be a full moon,
Shining bright in the night sky,
But they also have a dark side,
Which they often hide, but why?
Because darkness is a crippling condition,
Leading you to be paralysed,
Do not despair, make hope your mission,
And success, you will soon realise.
Humanity has suffered many dark nights,
Yet courageously it never gave up hope,
Because it continued searching for the light,
That was the secret that helped everyone cope.
Sometimes darkness can be overwhelming,
Do not be afraid, it is never too late.
Only light can extinguish darkness,
Only Love can extinguish hate.
Millions of souls, born from despair,
Rise to become stars, shining bright and fair,
All you need is, hope to harness,
To be the light in others darkness.
I am sure we all agree that Violence, or the threat of violence, and the use of misinformation to undermine trust is never acceptable in any circumstance, anywhere in the World.
_____________________________________________
December 20 – January 21 Dear Friends, I never thought that I'd be writing this in such difficult circumstances as for obvious reasons things will be a lot different this year with many people not being able to celebrate Christmas with family and friends. Each year we hear the Christmas story told in many ways. Through drama, singing, Bible readings, nativities and even eye witness accounts. It is a special time of year and however we hear the story it is clearly a story of hope and as we prepare to celebrate the birth of Jesus, the light of the world, it will mean different things to each one of us. This year our Christmas services will be taking place on Zoom. Every year the reason for celebrating Christmas seems to become more obscure. This is due to a large extent to the increasing commercialisation of our Christmas festivities, and the fact that there is a marked degree of sentiment associated with it. The true meaning gets lost behind the tinsel and baubles and the pressure of advertisers for us to buy bigger and better and get in to more and more debt and the pressure on parents can become a tremendous burden. The birth of Jesus took place over two thousand years ago and was celebrated at that time by Mary and Joseph, the shepherds, the wise men and the angels who sang 'Glory to God in the highest and peace and goodwill to men on earth and let's not forget the Inn Keeper. If therefore we only celebrate the birth of Jesus at Christmas, then I suggest that we are over two thousand years behind the times. How often have you heard it said, if you haven't actually said it yourself, 'that Christmas is a time for the children'. Yet most children don't have the opportunity to understand what Christmas means, and so it's our responsibility to teach the children, we need to teach them the true meaning of Christmas. We need to teach them that Christmas is a celebration for everyone to share. The idea that Christmas is only to celebrate the Birth of Jesus, tends to become more firmly rooted each year. Within the Christian church, many churches have a replica of the manger, together with images of all those who were present at the time Jesus was born but this year we need to imagine those things and put Christ back into Christmas. In larger churches and cathedrals, there can be seen life size replicas outside which tend to proclaim to the world that Christmas is only a celebration of the 'Birth of Jesus'. Is it any wonder, therefore, that people have little or no idea of the real meaning why we celebrate Christmas? Great people are remembered for some outstanding valuable contribution they have made to society such as;  Great artists, Musicians, Writers, Scientists, Members of the Medical profession, and some people are awarded the Nobel Peace Prize for their achievements. Jesus on the other hand never wrote a book or painted a wonderful work of art. He never composed any stirring musical composition or left behind some wonderful scientific discovery and he was never awarded the Nobel Peace Prize, yet at Christmas time every year practically the whole world comes to a standstill to celebrate His birth, and we need to ask ourselves WHY? In celebrating Christmas we need to remind ourselves that the 'Baby of Bethlehem' became the 'Man of Calvary', who rose from the dead and is alive in the world today, a living Lord and Saviour. To understand and appreciate more fully the 'True Meaning of Christmas' we should understand why Jesus came into the world, and the answer to that is clearly set out in the well-known verse in John's Gospel chapter 3 Verse 16 "For God so loved the world that He gave His only son, that whosoever believes in Him should not perish but have eternal life".  So, Jesus came to bring into this world the power of the Love of almighty God, and there is nothing sentimental about power. It is a dynamic driving force which motivates Christians in their task of establishing the Kingdom of God on Earth and in the communities in which we live, work, worship and serve. However you celebrate Christmas this year go back to the first one but don't just see Jesus as the babe in the manger because He's alive today and will be sitting at your table with you. Season's Greetings, Mal and Lorraine   Way Forward at Westbury Gardens When writing this newsletter restrictions because of Covid-19 are still in place so it is not yet a time when we can consider reopening our church. However, work to provide vaccines is now beginning to bear fruit and there is hope that we will soon, in the New Year, be in a better place than we are now. Our thoughts therefore naturally turn to returning to church so we can worship together and to thinking about what our 'Way Forward' will be.  The Elders have begun to do some initial thinking about what might come next such as – How might we – refresh our building – build on what we already do – perhaps start a weekly Lunch Club – become a 'Place of Welcome' open to all in the neighbourhood as a friendly meeting place to have a cup of tea/coffee and a chat etc We will of course want to continue to run Messy Church Sessions in local schools, lead school Assemblies and find new ways of connecting with schools perhaps using Zoom. We will also want to further develop the Art and Craft group and to begin the First Monday's sessions again as soon as we can. Whilst this will not be possible all at once we do want to be well prepared so any thoughts you may have will be more than welcome. Westbury Art and Craft during Lockdown We are pleased to be able to tell you that we have found a way of using Zoom that helps the Art and Craft group continue to connect with each other and to explore art and craft ideas online.  Gordon Mellody, the leader of the Art and Craft group is now finding ways to demonstrate Art and Craft skills and techniques on Zoom so those taking part can see and then try them out for themselves.  This is proving to be great fun, whilst somewhat challenging too, but very worthwhile.  Whilst there is serious work being done it is also a time to great fun and enjoyment being in each other's company with, of course lots of chatting going on.     October – November 2020 Caring for God's creation – Being an Eco Church As Christians we are committed to caring for all of God's creation doing all we can to nurture and protect it in all we do and say. Our Church has just completed an A Rocha Eco survey of our building and what we do. This has shown that we as a church, are doing quite well in caring for creation and we have achieved the Bronze Award level. We now want to build on this good position, so we become recognised as an active Eco Friendly Church community that do our best to care for God's creation in all its wonderful diversity recognising that we too are part of it A Rocha UK works with individuals and communities encouraging them to think about their use of the environment and helping develop practical ways to care for God's people and planet, locally and globally. Creationtide The season of Creationtide, also known as the Season of Creation, has its origins in the Eastern Orthodox Church which in 1989 declared September 1st as a day of prayer for creation. Over the following decades, as awareness of the present ecological challenges facing our world grew, this single day of prayer developed into a liturgical season running from 1st September to the 4th October, the feast day of St Francis of Assisi (the patriot Saint of Ecology). This season of Creationtide has been embraced ecumenically and Christians around the world are encouraged to pray for, and care for, God's creation. This is also when we celebrate Climate Sunday and Harvest services in our churches. If there is one positive aspect that came out of this time of Covid 19, it is that we tread more gently on God's creation. The reduced travel by air and land, the reduced pollution from factories etc enabled Mother Earth to flourish without the devastating impact we as human beings have on the Earth. Many of us forget that the 5th mark of Mission is: To strive to safeguard the integrity of creation and sustain and renew the life of the earth. We are made in Gods image to do as God does, to create and not destroy, to respect and honour that which was made good, to repair and to restore and to be guardians of a better future. There are many modern day prophets in our midst from whom have we heard the warnings of the climate crisis? It could be communities in the global south, on the frontline of the climate crisis and feeling its effects acutely. Or, has it been activists, who have been campaigning on this issue for years? Voices such as Greta Thunberg's and David Attenborough? Or, is creation itself the prophetic voice we need to hear? Should we be listening to the pain of wildfires, flooding, tsunamis and earthquakes? Saint Francis the Patron saint of Ecology said: "Preach the Gospel at all times; and when absolutely necessary, use words." Francis was all about orthopraxy, or living the Gospel, rather than orthodoxy, or merely verbal beliefs. As the Church, a global body with brothers and sisters around the world, are feeling acutely the impact of the climate crisis.  Do we listen to these cries? What is our role as local churches sharing this message and addressing it? Please contact your mentor or one of the Green Apostle team members to learn some more. Rev Daleen ten Cate Missional Discipleship Mentor for Lancashire & Part of the Green Apostle Team   The following is a letter from the North Western Synod's Green Apostles Team   Dear Churches in the NW Synod Are you passionate about the environment? Would you like to make some sort of difference to the way we treat our planet-home? Are you up for exploring how we can tread more lightly on the earth? Do you see that as something connected to following Jesus and making a Jesus shaped difference to the world? Did you know that the 5th Mark of Mission is: 'to strive to safeguard the integrity of creation and sustain and renew the life of the earth'? We can support you to become an Eco Church. At the recent Synod Meeting, the North Western Synod adopted the 'Environmental Charter' set out below, which encourages each congregation to embrace it in all they do and agrees to bring a similar resolution to the next General Assembly for adoption by the whole United Reformed Church.
We believe that creation reveals the glory of God. That we are called to be stewards of God's creation working with all people of good will to make sure that His earth remains a beautiful place full of wonder, worship, love, justice and peace by respecting the environment and all creatures.
We challenge ourselves to live simply and in solidarity with the poor not taking unfair amounts of the world's resources or creating waste and pollution.
We commit ourselves to safeguarding life and living sustainably by taking our environmental impact fully into account.
To find out more about the ECO Church Award, visit ecochurch.arocha.org.uk. and contact the Green Apostle Team or your Missional Discipleship Mentor. We can walk alongside you to do an Eco Church Audit for you to look through an Eco lens to the following aspects of being church. Worship and Teaching Management and Church Buildings Management of Church Land Community and Global Engagement Lifestyle Blessings   The Green Apostles Team Rev'dKate Gray                                      kate.gery@nwsynod.org.uk Rev'dDaleen ten Cate:                          Daleen.TenCate@nwsynod.org.uk Rev'd Dr.Rosalind Selby:                    Rosalind.Selby@lkh.co.ik   URC Pilgrimage to the Holy Land In September last year a group of 20 from the URC visited Israel/Palestine on a pilgrimage to understand the situation there which as we know is very difficult particularly for the Palestinians.  Those on the visit met and talked with those living there to get a better understanding of the difficulties that Palestinians living their face day to day. Many of those who the group met were very pleased to meet those on the Pilgrimage and were very keen that they tell others when back home what they had found out and what they had seen.  On return those that went on the Pilgrimage have been telling about their experiences in many places throughout the URC.  As part of doing this a live online presentation and discussion session has been held which gave many people the opportunity to hear about the experience at first-hand with the opportunity to ask questions. This included a live contribution from Bethlehem by the Revd Munther Isaac, a Lutheran Priest who has a church there.  He was able to explain in detail the day to day life and difficulties that Palestinians face as well as making clear the devastating effect that Covid 19 is having on people's lives because much of their economy relies on people visiting on Pilgrimage which at present is not possible.  Because of this a virtual Pilgrimage, using Zoom, was arranged that took Pilgrims directly into Bethlehem to see Manger Square, the Church of the Nativity, meet the Revd Munther Isaac, see his Lutheran Church and speak to people in Bethlehem.  Over a 100 people went on this unique experience.  As we begin to think about Christmas our thoughts turn to Bethlehem and the miraculous birth of our Lord Jesus there.  The experience of the visit a year ago and the virtual Pilgrimage just held will, it is hoped, remind us all to hold all those living there in such difficult circumstances in our prayers. Click on this link to see the Film "Walking the Tightrope" which the URC was instrumental in having made.  https://www.fodip.org.uk/walkingthetightrope Mal